This Is Why We Do What We Do
"When we had to move my mother into care because of her advancing Alzheimer's, we had to take the difficult decision to rehome her beloved six year old dog Bella. It was very important to us to try and place Bella directly with another family. We approached Joyful Pets for help, and never looked back. They provided both practical and emotional support throughout the adoption process, with a service that saw us find a kind and loving local family for Bella very quickly. We have been able to hand her over to her new family in the full confidence that she is going to a safe and happy new beginning. We can't recommend Joyful Pets enough!"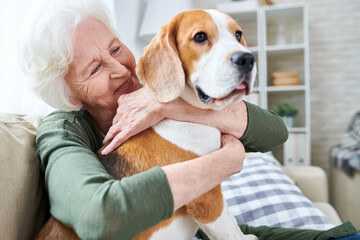 "When I finally came to terms with the heartbreaking decision to rehome one of my dogs, I began by creating listings for her across any and all relevant platforms I could find on the web and within my network. After months of limited interest and multiple instances of interested parties backing out at the last minute, I had nearly resolved to give up the search. When my mom found and shared Joyful Pets I was immediately drawn to how loving they seemed on the website, and how my pet's profile was so friendly and easy to read for potential adopters. Lauren answered all of my questions, instilling a sense of confidence that I would find a new family within a reasonable amount of time. Indeed, my pup was adopted within two weeks of engaging with Joyful Pets and she and her new family seem to be over the moon. I would highly recommend this service to alleviate much of the difficulty in navigating the rehoming process."
"Lauren showed so much care and thoughtfulness from start to finish of the rehoming process. She guided me through each step and it was obvious how much she cared about finding my sweet cockatiel a loving new home. She helped us find the perfect adoptive family and we are so grateful!"
"When we knew that the difficult choice to rehome our cherished dog Echo would give her the chance to have the best quality of life, we felt so alone and uncertain about navigating the rehoming process on our own. Though wonderful, our dog had specific needs that required a special type of adoptive family for her, which made the rehoming process even more challenging. We are beyond thankful to have found Lauren and Joyful Pets to assist us through the entire rehoming process. Lauren was so kind, patient, and empathetic during this painful time and made us feel like finding the right forever home for our dog was her top priority. Even more importantly, Lauren found a special adoptive family for Echo who was capable of providing her with so much more out of life than we could have originally imagined. While Joyful Pets can't make rehoming your pet less heartbreaking, they are compassionate and supportive throughout the entire process (even following up with you and your pet's new family after the adoption is finalized) and truly go above and beyond to ensure your pet is adopted into a safe and loving forever home. We cannot thank Joyful Pets enough for the service they provided to our sweet Echo, her new family, and our family!" 
"Joyful Pets has been a lifesaver! Because of health issues, I needed to rehome my sweet boy and Joyful Pets helped me find the perfect match! Thank you from the bottom of my heart!"
"We needed to rehome our older dog Sneakers. We really didn't want to take him to the shelter and had no idea what to do. Enter Joyful Pets who not only found a loving family for Sneakers, but also helped facilitate a smooth transition to his new home."
"Your service is fantastic. I didn't even know where to begin when it came to rehoming our dog. But after y'all posted about him, I had emails pouring in immediately. We found the absolute perfect home."
" Rehoming our beloved Zoey. I was contacted by Lauren of Joyful Pets. She explained their process to me. She was very understanding and helpful throughout the rehoming of our pet. I chose the full package since we work full time and did not have time to do this on our own. Lauren got to work right away and was screening applications for our pet. Within a matter of hours, I found a match for her. I highly recommend Joyful Pets, they are truly looking out for the animal's welfare and your peace of mind in rehoming a beloved family member."
"I just wanted to say what a pleasure it was working with Joyful Pets. I had to re-home my cats and it was a very sad experience for our family. Lauren was very understanding and compassionate through the entire adoption period. We had a few different families interested in adopting Timothy & Oliver but we decided to go with a very nice family almost four hours away from us.
Although we spoke to the family, Joyful Pets did a nice background check on them, which made us feel even more secure. They spoke to us and to the adoptive family and explained the easiest ways to decrease the cats stress levels and what products, such as calming sprays, would be best to transport them.
Lauren went so far as to contact us the day of the adoption knowing it would be hard on us and asking if we were okay. We were very lucky to find her and so were our boys who are now in their new home (and from what we can see from their new mom via photos, they are doing great so far).
If for some reason you have to re-home a pet or if you are looking to adopt an animal in need, I would highly recommend reaching out to Joyful Pets. They are just wonderful."